CGI Paving & Asphalt Maintenance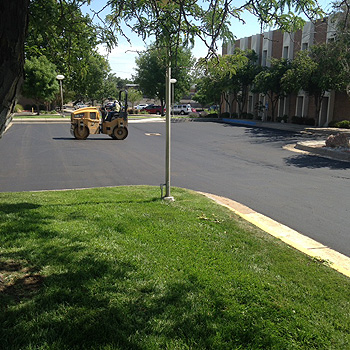 Asphalt Maintenance is crucial for keeping pavements in full service, with minimum expenses, and the least inconvenience to the public and the residence. Improper maintenance is usually worse than none at all. Preventative maintenance is a wise investment to keep your pavement protected. There are several basic forms of maintenance.
Seal Coating
Seal coating is a process that will protect asphalt pavement from oxidation and spills while making the asphalt visually more appealing. This application should be applied at least every three years or more, depending on the use and deterioration of the pavement. Seal coating in the proper intervals will prolong the life of pavement indefinitely at a fraction of the cost of a complete replacement.
Crack Sealing
Cracks in asphalt pavement are usually caused by either by failure of the base, water damage or excessive weight on the pavement surface. Crack sealing is the filling of small sized cracks with hot liquid rubberized asphalt material. This seals the cracks in the road surface and reduces the amount of moisture entering the subsurface. Crack sealing is a very cost effective method of pavement preservation and should be done on an annual basis.
Patching
If significant deterioration has taken place, removal and replacement of certain areas may be possible. If excessive ground water or poor soil conditions have aggravated the problem, corrections should be performed before applying the patch. Patching should be done on an as-needed basis.
The Signs of Pavement Wear:
Color fading
Oil spots
A rough surface texture
Loose or missing aggregates
Cracking
Bird baths
High spots and/or rutting
Custom Grading, Inc. is the one-stop shop for all asphalt maintenance needs. Please contact us for an estimate today.